New Sales Speak
The 9 Biggest Sales Presentation Mistakes and How to Avoid Them,
Audio Book: 6 Disc Package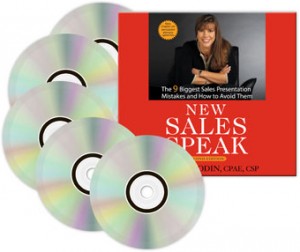 Retail Price: $29.95
Available exclusively through Sjodin Communications.
Please call our office direct at (949) 723-3132 and a customer service representative will be glad to assist you.
What are the 9 Biggest Sales Presentation Mistakes People Make and How Do You Avoid Them?
In this audiobook program, Terri will show you how to build and deliver a more polished and effective sales presentation and overcome familiar pitfalls.
Common mistakes include:
"Winging it"
Being far too informative vs. persuasive
Misusing the allotted time
Failing to "close the sale"
Distracting gestures and body language
Wearing inappropriate dress
… and more!
This book is now out of print.
A new, updated version
is in development.
Tentative release in 2021.