New Sales Speak
The 9 Biggest Sales Presentation Mistakes and How to Avoid Them,
Second Edition Paperback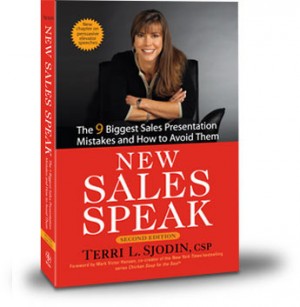 Retail Price: $19.95
Order on Amazon.com
Order via Amazon above or call (949) 723-3132 and a Sjodin Communications customer service representative will be glad to assist you.
This book identifies the most common mistakes individuals make when presenting and explains how to avoid them when creating your own highly successful presentations. Including a detailed sample outline you can adapt for your own purposes, this book will turn you into a polished and persuasive presenter and a first-class sales professional.
Published to acclaim in 2000, this newly revised and updated edition includes new case studies; a new chapter on the buzzed-about "three- minute elevator speech"; and hot tips from Sjodin's workshops, where participants design and deliver their own presentations.
ISBN: 0471755656
Paperback: 288 pages
Publisher: Wiley
This book is now out of print.
A new, updated version
is in development.
Tentative release in 2021.