Presentation Ready
A Guide to Understanding the 12 Common Sales Presentation Mistakes and How to Avoid Them,
Hard Cover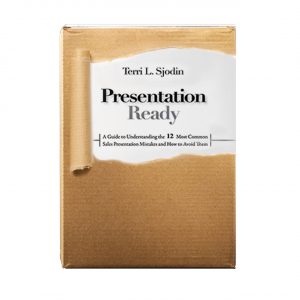 Retail Price: $TBD
Coming Soon
Terri Sjodin's  PRESENTATION READY, ( McGraw-Hill, 2024) shares the results of her multi-year research project — which identifies twelve common mistakes that may cost a sales professional the win, the deal, or the opportunity — and how to avoid them.  The content helps readers to learn vicariously through the experiences of others, and with that edge to transform their presentations overnight. (Whether they present in-person, virtually or in hybrid environments.)
The book is divided into three sections: building your case, leveraging creativity, and honing your delivery. Each chapter explores a specific presentation mistake—why it happens, why it's damaging, and practical tips on how to correct it. These insights can ultimately help you course correct and save yourself time, increase your earning potential, reduce stress, and gain greater confidence for your future presentations.
To receive updates on the release of Presentation Ready, please subscribe to the Presenters' Post Newsletter.
---