All Things Scrappy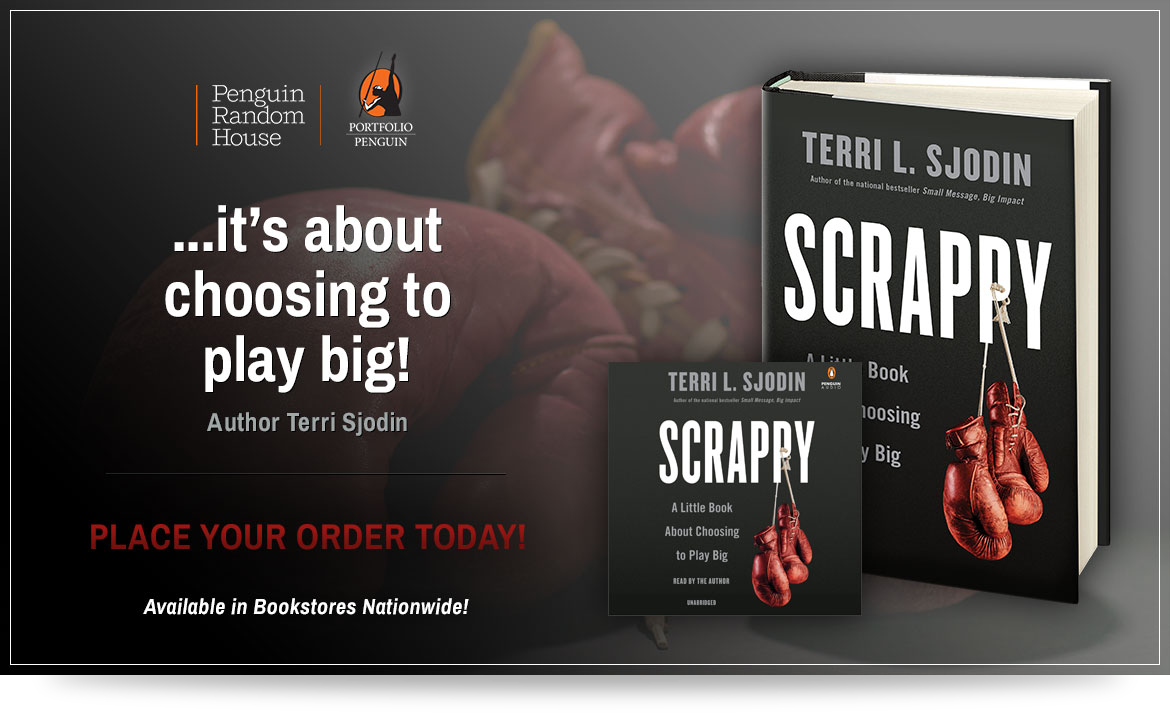 Scrappy \'skra-pē\ adj:
Full of fighting spirit—synonymous with having moxie, being feisty, enthusiastic, gutsy, lively and spunky.
Maybe you've been told time and time again that if you pay your dues and keep plugging away, you'll gain enough experience through "the school of hard knocks" to be successful. That might be true. But maybe you want to reach your goals faster. Maybe you want to earn more, beat the odds — and do it with class and style. If so, it's time to get scrappy.
Scrappy people see big problems and come up with big solutions. Or they see ordinary challenges and find a new path to extraordinary results. They're like the entrepreneur who turned his home into an indoor jungle – complete with waterfalls, tropical birds, and a live baboon – to sell investors on the now-famous Rainforest Café restaurant chain. Or the Girl Scout who skipped the usual door-to-door cookie sales and set up a table outside a medical marijuana dispensary, selling 117 boxes in just 2 hours.
It can seem like these successes are just one-off acts of ingenuity or isolated flashes of brilliance… but are they? In today's world you need more than just an occasional burst of creativity. You need a consistent attitude, a proven strategy, and a tactical plan for execution. That's where Terri Sjodin's Scrappy can help you, by explaining and demonstrating the unique elements behind any successful scrappy effort.
Drawing on research, interviews, and her own personal experience, Sjodin identifies the habits that will help you get into the right mindset. She shares stories of scrappy tactics that have worked, and those that have crashed and burned, in order to provide practical takeaways for achieving your vision, whatever it might be. She explains, for instance…
Why getting scrappy is a choice to play big.
How to cultivate your best ideas.
How to manage risks and bounce back from mistakes and failures.
How to scale a scrappy culture within any organization, big or small.
As Sjodin puts it, "This is not another book about persistence, although scrappy and persistent make a winning combination. Nothing annoys a persistent person more than a scrappy person who pulls off a classy, unexpected, amazing effort to land the deal, the sale, or the opportunity."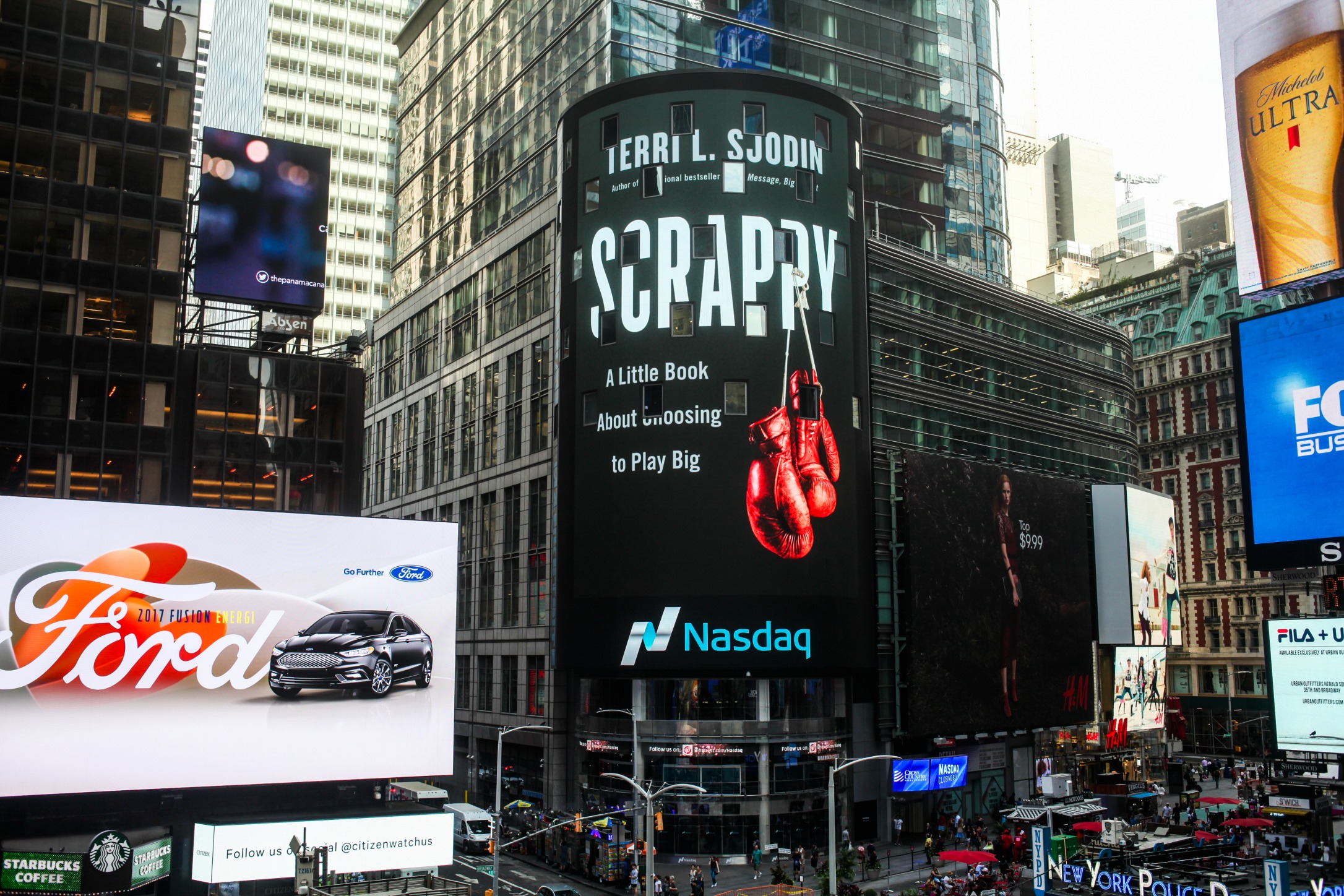 ---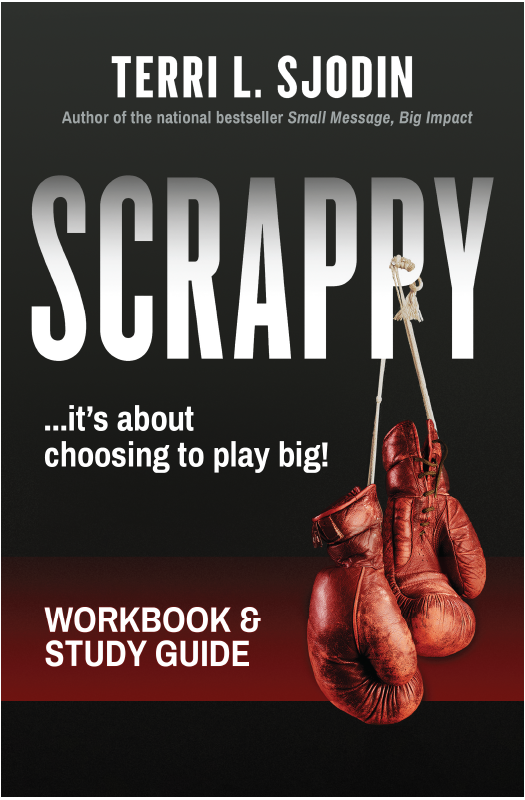 Free Gift with Purchase: Scrappy E-Workbook/Study guide
We hear you! Due to the limited supply of hardcover books – we are offering a small solution that we hope will help — When you purchase any E-book or Audiobook version of Scrappy: A Little Book About Choosing to Play Big– you can request a complimentary copy of the Scrappy E-Workbook Study Guide!
Requests must be made directly to Sjodin Communications:
Please send a copy of your purchase receipt and the email address to send the pdf file to and you will receive it promptly.
PDF Download Only: 54 pages
Scrappy E-Workbook Requests should be sent to: clientsupport@sjodincommunications.com
Media Interviews and Public Relations
For media queries, click on the press release link to access the public relations and marketing team contact information:
Portfolio/Penguin to publish new book "Scrappy: A Little Book About Choosing to Play Big" by bestselling author Terri L. Sjodin on August 23, 2016
Read the Official Press Release
Praise and Support of Scrappy
There's no one better to write a book about being scrappy than Terri Sjodin. She is proof positive that your approach can make all the difference. If you are ready to play big, follow Terri's game plan. One of the best new sales books I've read in years. — Harvey Mackay
Author of the #1 "New York Times" bestseller "Swim with the Sharks Without Being Eaten Alive"
Scrappy is tremendously entertaining with great content and practical, real-world lessons from successful and clever entrepreneurs. It's so much more than just a typical business book. A definite must read. — Toni Ko
CEO and chief creative director, Perverse Sunglasses; founder and chairwoman, NYX Cosmetics
Scrappy people are curious, creative, and resilient. And organizations with a scrappy culture leave their competition in the dust. Read this charming book and learn how being scrappy can help you—and your organization—win! — Ken Blanchard
Coauthor of The New One Minute Manager® and Collaboration Begins with You
Scrappy is a fun read with engaging stories and clear takeaways. It illustrates the value of tenacity, creativity, and spunk in business and in life. While scrappiness isn't taught in business school, embracing the mindset can be the difference between success and failure. Reading Terri's book is like taking a performance enhancing drug for your business career... with no bad side effects. — Alexander S. Bhathal
President, RAJ Swim & SwimSpot
Co-Owner, Sacramento Kings
This book is a must read for any sales organization. After reading it, I can't stop thinking about how important it is to be scrappy in today's business environment. I can't wait to give it to everyone on my team. (And I've grabbed copies for my kids as well!) — Kathy Bintz
Chief Executive Officer and Principal, Creative Retail Packaging
I love this book! It will make you think, give you great ideas and get your adrenaline pumping. There is fierce competition in the world and having a "Scrappy" mindset will help you stand the test of time. — Amber Kelley Lausch
CEO & Executive Director, Surf Prescriptions Surfboards
Clever and Empowering! This little book really packs a punch. It's a quick, fun read with solid content. Scrappy provides tactical ideas that you can use on a personal or professional level and gives a framework to develop a strategy that will help you play big! — Joan Cleveland
President and Chief Executive Officer
SWBC Life Insurance Company
Whether you are a CEO of a Fortune 500 Company looking to jumpstart your organization, mid-career and contemplating your next move, or a recent college grad scrambling for your big break, Terri Sjodin's "Scrappy" has smart advice. It's not the typical "rags to riches" stories of celebrities, but rather a set of experiences from people we can all relate to. Great content and a fun, quick read. Can't beat that! — Timothy Punke
Senior Vice President, Weyerhaeuser
A fast easy-read with real world insight that actually teaches you how to be "scrappy" and win. This book gives personal and professional insight on why staying scrappy gets you the biggest reward. Each chapter inspires as it challenges you to take action. — Terry Watson
Vice President of Channel Marketing, Hubbell Power Systems, Inc.
Terri shows how being Scrappy really works and how the reader can implement concrete techniques into their personal and professional lives. We will use the book as a staple for our sales training. But more importantly, I will study it with my young adult children to help them become successful in life. — Howard E. Sharfman
Senior Managing Director, NFP Insurance Solutions
Throughout the book, I was thinking about the kids Olive Crest serves and realized a lot of them need to be scrappy in order to get out of their situations. Wouldn't it be awesome someday to incorporate this training for our kids especially going into adulthood?... This book is clever with practical ideas that can help people in their careers, in dealing with their families, and in navigating the world around them. — Donald Verleur
Chief Executive Officer, Olive Crest
If you have a thirst for more success, Scrappy is your secret sauce. It presents a simple idea that unleashes the possibilities for anyone to play at a higher level. It takes differentiation to disruption and will change your game, and your results, in a BIG way. — Todd Duncan
CEO & Founder, The Todd Duncan Group LLC
"New York Times" Best-Selling Author of "High Trust Selling"
This book will show readers how they can take their personal and professional lives to the next level with a simple shift in their approach to life. Amazing things can happen when we make the choice to get Scrappy! — Sheryl O'Loughin
CEO REBBL Inc. former CEO Clif Bar and Company, Co-Founder Plum Organics