State of Sales Presentations Research Study

In This Report, You Will Find

Insights into the habits of today's sales professionals


A Speech Geek's Research Study & Exploration of Common Presentation Mistakes Sales Professionals Make in Today's Market
This national study builds on our previous work in the area of sales presentations and digs deeper into the art and science of crafting an effective message to move a transaction forward. Our new findings are already helping people avoid critical presentation pitfalls and improve their results. We are pleased to present this important research for your review.
This research was born from a simple yet significant question:
Does making a sales presentation mistake impact the outcome or the ability to move a transaction forward?
The answer is: Yes.
Adopting the "no-research-about-us-without-us (and-for-us!)" philosophy, Terri and her team designed a simple survey to be completed only by people whose livelihoods depend on their ability to build and deliver persuasive presentations. Their responses were based on self-reported data, so they reflect what these sales professionals are thinking and doing on a regular basis in the field.
This results report offers new insights into the habits of today's sales professionals. To see how the research can immediately benefit your sales organization, download the report!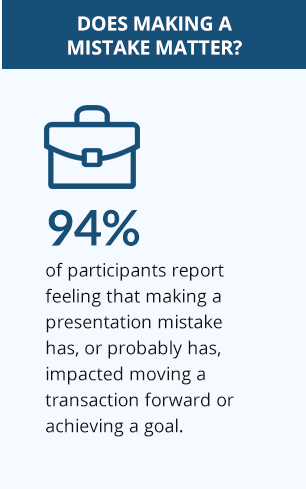 IN this report you will find:
An overview of Key Research Findings, which includes the study data and methodology
Interesting insights including the list of 12 "stand out" sales presentation mistakes (now lovingly dubbed "The Dirty Dozen") that professionals identified as negatively impacting the moving a transaction forward or achieving their goal.
The "Big 3" – There are three mistakes participants self-reported commiting above all others
The #1 mistake sales professionals reported seeing "others" make.
And much more!
The entirety of this data on sales presentations mistakes was self-reported by sales professionals for sales professionals.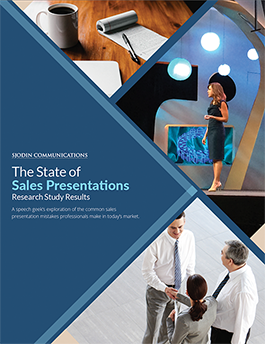 Download the Complete
State of Sales Presentations Research Study Reports
Interested In Hiring Terri?
Book Terri to deliver a Keynote Address, Seminars, or Workshops