"Get Scrappy!" Blog
"Scrappy" Book Release Update & Pictures
Posted September 12, 2016 by Terri Sjodin in Book Launch, Scrappy
We did it! A big thank you to everyone for their kindness and support over the last few weeks! It has been a wild ride and now Scrappy has been released into the world. I am feeling incredibly blessed for this amazing opportunity and super happy with the initial results of the Scrappy book launch efforts!
People keep asking, "So, how did it go?" Well, it's still early… I won't know much for a few more weeks. In the meantime, here's a quick look and a few pics of some the highlights from the book release adventure:
The official "Scrappy" book launch event at Barnes & Noble:
Wow!  What a lovely kick off… a big thank you to Barnes & Noble, Newport Beach, CA for hosting the official Scrappy book release event! And also, to NAWBO (National Association of Women Business Owners) CEO Jen Earle and Loreen Gilbert for moderating the Q&A – it was a packed house and a wonderful evening!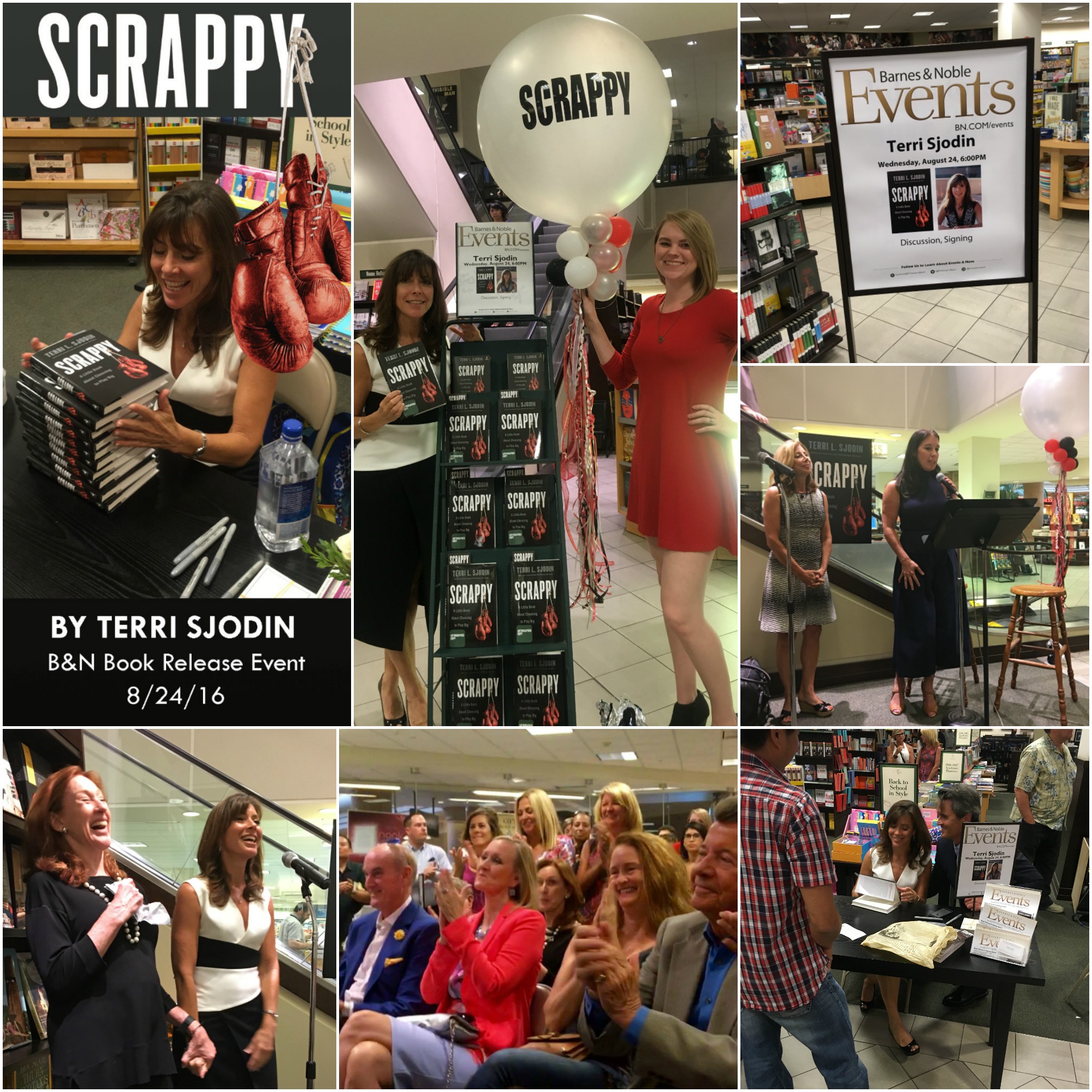 Scrappy Book Cover on the NASDAQ Screen in Time Square, NYC:
Probably one of the more cool moments in my career… I was invited to be a guest on the NASDAQ READS/Facebook Live program (here's a link to the interview: https://www.facebook.com/NASDAQ/videos/10154390949227429/) and afterward they shared this image of the Scrappy book cover on the NASDAQ Screen in Times Square. (This is my Dad's favorite Scrappy book launch moment.)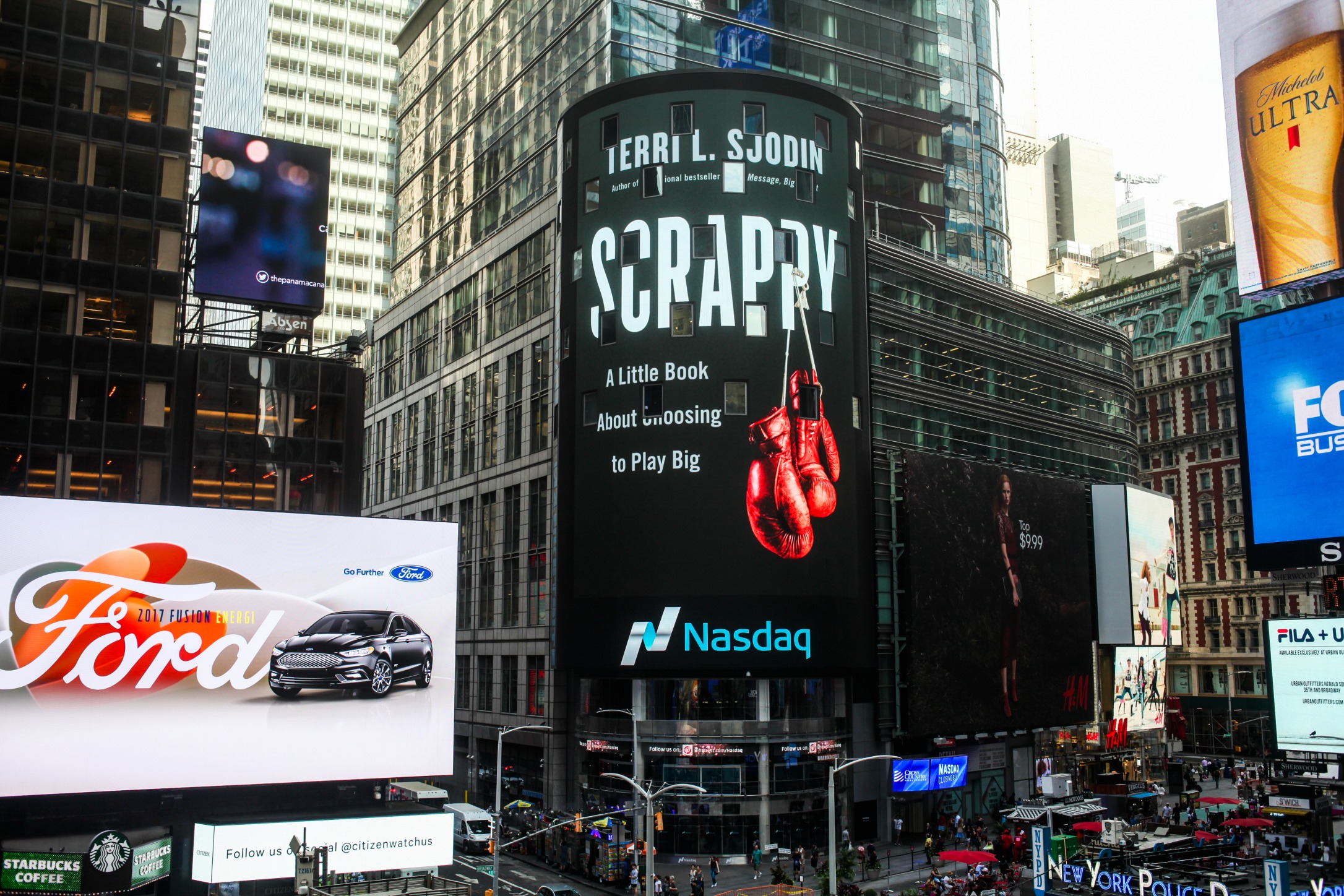 Scrappy UK book launch in London, England
My mom was born and raised in England and she is probably the most excited about the UK launch of Scrappy. It was such a treat to be there and support the book release! Thank you Penguin Random House – UK for the lovely hospitality and your hard work! (And yes, I celebrated the "champagne moment" on the London Eye!) The book is available for our UK followers at: http://amzn.to/2a9Xnaf.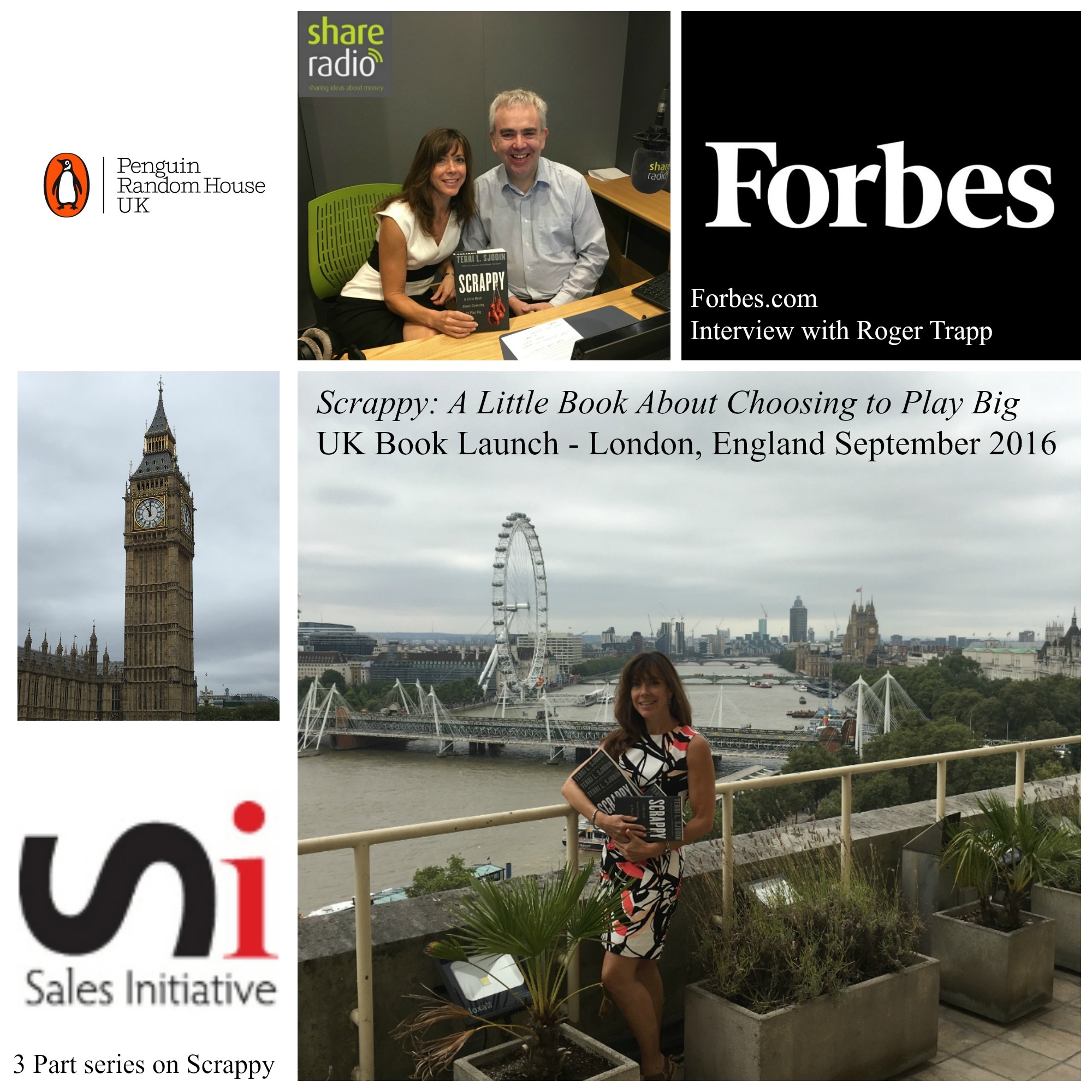 Quite frankly I am just trying to take it all in. So much has been squeezed into such a short amount of time. It's time to rest a bit (lol!) and review everything that we have executed – then we can explore what's next!
I just wanted to send out a little update, and thank you all again for being a part of this adventure with me. Stay scrappy!
Much love and big hugs,
Terri
P.S. Please note: The Scrappy Book Club Webinar chat 3 part series begins on Monday, September 26th. As a Presenters Post Subscriber you receive complimentary access to the series…but you will still need to register. Stay tuned for the registration information which will be sent out shortly.
For more information about Scrappy please visit: www.scrappy-thebook.com
Scrappy is also available on audio CD! (Read by the author): https://www.amazon.com/Scrappy-Little-Book-About-Choosing/dp/1524735493/ref=tmm_abk_title_0?_encoding=UTF8&qid=&sr=
---
---
---